THE LARGEST
SELECTION OF DOMESTIC
HIT SERIES
SERIES LIST
The Grape Wine Secret
Find out more
The Grape Wine Secret
Each family has a secret, and everything that happens to us, happens for a reason – it's either a reward or a punishment, there are no accidents. This series brings together two winegrowing families who come from different cultural milieus and it reveals whether the adage in vino veritas is true or a lie.
Directed by:
Marko Manojlović, Kosta Đorđević
Cast:
Sloboda Mićalović, Vojin Ćetković, Marko Vasiljević, Vanja Nenadić, Dragan Petrović, Milica Zarić, Anita Mančić, Miodrag Krivokapić, Dara Džokić
TWELVE WORDS
Find out more
TWELVE WORDS
An exciting story following the lives of lawyers, criminals, and hackers involved in brutal criminal activities. The name itself – twelve words – represents a code for the wallet that holds cryptocurrencies. This realistic depiction of the mafia and the judicial system will leave you breathless with its plots, dialogues, and dark secrets of cyber business.
Directed by:
Jelena Stolica
Cast:
Viktor Savić, Tika Stanić, Nikola Pejaković, Marija Bergam, Ivana Vuković, Filip Đurić, Denis Murić, Dubravka Drakić, Slobodan Ninković, Branka Pujić, Mirsad Tuka, Judita Franković
The Clan
Find out more
The Clan
How are criminal clans formed and how do they operate and survive? After shutting down one gang, will a new, even stronger one emerge? The series "Clan" is an unprecedented insight into the very heart of criminal organizations and their affairs, which follows the rise of two petty criminals in the world of the Serbian underground.
Directed by:
Slobodan Skerlić
Cast:
Aleksandar Dimitrijević, Nedim Nezirović, Vladimir Kovačević, Nenad Popović, Mladen Sovilj, Ivan Zarić, Stojan Đorđević, Sava Stojanović, Uroš Jovčić, Miloš Tanasković, Miloš Petrović Trojpec, Dejan Karlečik, Feđa Štukan
Dream Team
Find out more
Dream Team
The series is inspired by a true event that follows the character of a football fanatic who desperately wants his eleven sons to make his dream come true and become top football players. Dream Team is a comedy, yet also a real human story, full of emotion in which many viewers can recognize themselves.
Directed by:
Dejan Zečević
Cast:
Lazar Ristovski, Tanja Sojić, Milutin Mima Karadžić, Jelisaveta Orašanin, Nenad Okanović, Bojan Dimitrijević, Moma Pićuric, Milan Kolak, Aleksandar Filimonović
The Swamp
Find out more
The Swamp
Ritual and bizarre murders of women are committed one after another in raging Belgrade. All the victims have something in common, and Inspector Nikola Krsmanović will try with his colleagues to find out what connects them and who the killer is. Following the leads, everyone will also face their own past, tragedies and futile lives.
Directed by:
Oleg Novković
Cast:
Goran Bogdan, Marta Bijelica, Stefan Trifunović, Vuk Kostić, Nada Šargin, Dubravka Kovjenić, Svetlana Bojković, Ana Franić
My friend
Find out more
My friend
Andrija Milosevic, our famous comedian, is on a mission to meet his virtual friends and their real lives. He gets involved in many funny situations and, because of the loads of laughter, you will include this series among your favorites and surely recommend it to your friends.
Directed by:
Andrija Milošević
Cast:
Andrija Milošević i prijatelji
The tycoon
Find out more
The tycoon
The Tycoon is a TV show featuring the social mileiue formed in the transitioning Balkan societies where politics, business and crime are entangled. Does power eliminate morals? Can money buy happiness? These are just some of the questions, answers to which you will get by watching the show.
Directed by:
Miroslav Miša Terzić
Cast:
Dragan Bjelogrlić, Bane Trifunović , Marko Baćović, Hana Selimović, Vuk Jovanović, Neven Bujić, Vanja Nenadić, Miloš Petrović Trojpec, Tihana Lazović, Janko Volarić Popović, Toni Mihajlovski
Public servant
Find out more
Public servant
"Public Servant" will take you behind the scenes of secret services. The series deals with professional temptations, moral dilemmas, but also the consequences of this job on the protagonists' personal lives.
Directed by:
Miroslav Lekić, Ivan Živković
Cast:
Milan Marić, Nebojša Dugalić, Žarko Laušević, Nenad Jezdić, Aleksandara Berček, Radovan Vujović, Marta Bjelica, Ljubomir Bulajić, Vaja Dujović, Nina Nešković, Sonja Kolačarić, Marko Božić
Debt to the sea
Find out more
Debt to the sea
The sea is the alpha and omega of everything: the present and the past, memory and oblivion, love and hate, life and death. This is an unusual tale about human drama, intertwined fates and facing one's self.
Directed by:
Goran Gajić
Cast:
Dragan Mićanović, Nada Šargin, Vesna Trivalić, Bojana Maljević, Sergej Trifunović, Bojan Dimitrijević, Ana Lečić
Five
Find out more
Five
How can an ordinary man's life turn into a thriller and start the domino effect on those closest to him? This is a story about childhood friends who suddenly find themselves in a vortex of blackmail, lies, murder and crime. Female intuition, care for their children, and loyalty to friendship will make these five heroines into dangerous and unpredictable opponents.
Directed by:
Balša Đogo
Cast:
Jelena Đokić, Hristina Popović, Marija Karan, Gala Videnović, Milena Radulović
Sweet pains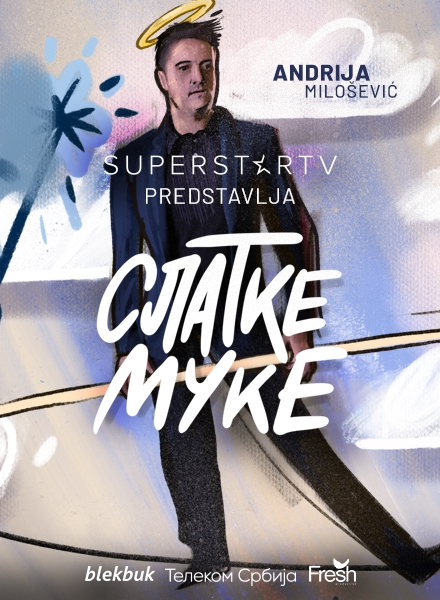 Find out more
Sweet pains
The main character on the show is Andrija Milosevic playing himself – a TV star, popular comedian, while at the same time an ordinary family man facing everyday problems. Because of his stubbornness, Andrija often gets into strange, comical situations.
Directed by:
Marko Manojlović
Cast:
Andrija Milošević, Aleksandra Tomić, Manja Aleksić, Aleksandar Osvald, Mirjana Karanović, Aleksandar Srećković, Damjan Kecojević, Zorana Bečić
Some better people
Find out more
Some better people
Three generations under the same roof is an ideal terrain for the conflict of generations, humor and loads of laughter. Marital life, disagreements, children growing up, misunderstandings with parents and existential problems are part of everyday life, but can they make us all become some better people?
Directed by:
Slobodan Šuljagić
Cast:
Nebojša Ljubišić, Gordana Đurđević, Milovan Filipović, Milena Vasić, Uroš Drobac, Nikola Stanković, Branislav Jerković, Jovana Milovanović, Žarko Stepanov
Public service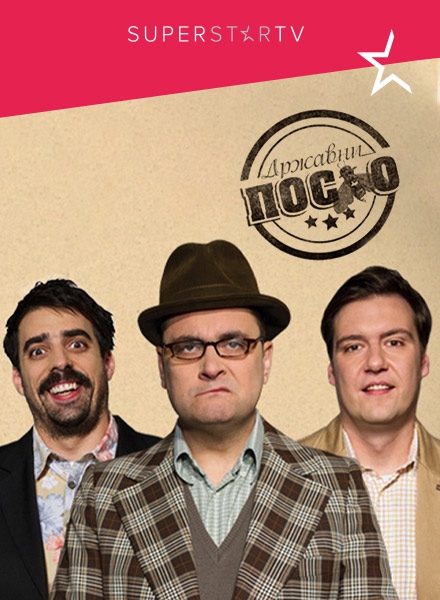 Find out more
Public service
A cult comedy show where three employees at a state-owned company are always in opposition two against one – old against young, newcomers against natives, Europe-oriented against Balkans-oriented. Witty comments on current affairs and masterful portrayal of the Balkan mentality have made dialogues from Public Services so popular that they are quoted in everyday conversations of our people.
Directed by:
Stojče Stoleski
Cast:
Dimitrije Banjac, Dejan Ćirjaković, Nikola Škorić, Mladen Urdarević, Stojče Stoleski
Door to door
Find out more
Door to door
Haps and mishaps in one neighborhood community!
Usual and unusual situations with neighbors relatable to all of us, which is why this family show will make you roll on the floor laughing!
Directed by:
Marko Manojlović, Vlada Aleksić
Cast:
Katarina Marković, Maja Mandžuka, Jelena Jovičić, Zoran Cvijanović, Nebojša Cile Ilić, Nemanja Oliverić, Uroš Jakovljević, Dominik Čičak, Pavle Orlić, Dimitrije Zlatanović
A long way to Holywood
Find out more
A long way to Holywood
Comedy show follows the story of several generations of actors from a small town who compensate their lack of professional realization with snobbism and a tilted picture of their own greatness. Interesting dialogues, fun situations, good humor, and a fantastic crew will make you watch this TV show at the edge of your seats!
Directed by:
Ivica Vidanović
Cast:
Boris Komnenić, Predrag Ejdus, Petar Božović, Danica Maksimović, Nenad Gvozdenović, Miljan Davidović, Đorđe Marković, Anja Mit, Jelena Sneblić, Vesna Kljajić Ristović
Swindlers
Find out more
Swindlers
The show Swindlers tells us that nothing changes one's nature like money. This ironic, black-humor show is placed in a quiet small town during Serbia's golden age. Things are shaken up at the moment when the winner of the millions-worth prize on the State Lottery is to be revealed. The seemingly tranquil environment becomes a stage for scandal, revenge, gossip and funny situations.
Directed by:
Nemanja Ćeranić, Miroslav Lekić
Cast:
Dragan Jovanović, Branka Pujić, Pavle Mensur, Anđela Jovanović, Dejan Lutkić, Brankica Sebastijanović, Vlasta Velisavljević, Gorica Popović, Vojin Ćetković, Andrija Kuzmanović
You only live once
Find out more
You only live once
This hilarious comedy will make you laugh like never before. If you ever wondered whether there is a more chaotic family than yours, you will realize already during the first episode that the Savkovic family is it. Complicated, comical situations, gossip, manipulations, confusions with which each and every one of you can identify are only a small part of the crazy chaos that takes place in one family.
Directed by:
Slobodan Šuljagić
Cast:
Ljiljana Stjepanović, Anđelka Prpić, Paulina Manov, Miodrag Fišeković, Milan Kovačević
Modern-day heroes
Find out more
Modern-day heroes
Another fantastic TV show written by the renowned Sinisa Pavic. It features a contemporary family from the Balkans and shows those people who have made it precisely because of "being nobodies." Chasing a better future, these heroes will cross each others' paths and find themselves at unexpected crossroads, dilemmas, and temptations.
Directed by:
Mihailo Vukobratović, Ivan Stefanović
Cast:
Igor Đorđević, Mina Lazarević, Branko Cvejić, Nenad Jezdić, Svetlana Bojković, Aleksandar Berček, Milutin Karadžić, Isidora Građanin, Eva Ras, Branislav Lečić, Siniša Ubović, Vojin Ćetković, Dejan Lutkić
Good morning, neighbor
Find out more
Good morning, neighbor
Don't miss one of the most watched TV shows in the region which describes the daily routines and neighborly relations in the Balkans where everyone is spying on everyone, but at the same time, they are very loving and forgiving.
Directed by:
Mladen Marijanović
Cast:
Željko Kasap, Radenka Ševa, Aleksandar Stojković, Mirela Predojević, Dean Batoz
FinTin imaginarium and school
Find out more
FinTin imaginarium and school
Children's (educational motion and animation series)
Description: Fintin is an educational platform and TV series which unites imagination, and knowledge. It is intended for children between the ages of three and nine, but also pupils of lower primary school grades and their parents. Fintin is a world filled with letters, numbers, colors, and musical notes, brain teasers and puzzles, games and original stories, knowledge and adventure….
Directed by:
Igor Basorović
Cast:
Stefan Buzurović, Ana Vučić
Template
Find out more
Template
The truth is never simple, because one can usually get to it in a complicated way. The series is based on true events related to the "Missing Babies"; affair that happened in Serbia at the beginning of this millennium.
Directed by:
Vuk Ršumović
Cast:
Svetlana Bojković, Nada Šargin, Ana Maljević, Milivoje Obradović, Saša Torklaković, Branislav Zeremski, Dubravko Jovanović, Srđan Miletić, Nenad Nenadović, Gojko Baletić
Games of Fate
Find out more
Games of Fate
Only family and friendly emotions can triumph over any temptations, such as unexpected twists of human fate, scandals, intrigues and betrayals. Learn how fate can play with any of us.
Directed by:
Mihailo Vukobratović, Stanko Milošević
Cast:
Milica Milša, Slobodan Ćustić, Vladan Savić, Luka Raco, Stevan Piale
Dads
Find out more
Dads
"Every man can be a father, but scarce are those who can be DADS" – a comedy family series with melodramatic plots. Different types of men experience the same joys and problems in raising children. Enjoy and realize why this is one of the favorite comedies of different generations.

Directed by:
Vladimir Aleksić, Filip Čolović, Stanko Crnobrnja
Cast:
Filip Juričić, Andrej Šepetovski, Branko Janković, Miljan Prljeta